On September 21, 2018, HT Construction celebrated one-year anniversary. The company has expanded scale of the current projects, found new projects and built a corporate culture that is united and sustainable towards common values within a year.
Some photos of the Board of Directors in the company's New Year's Eve party.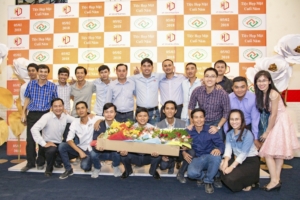 On the occasion of the one-year anniversary and the company's traditional day, HT Construction has together looked back in retrospect, the journey of working jointly with partners and customers, reviewed significant marks and achievements that the company has gained during the past year since its founding in order to promote and strive for its plans and determination in the future. Besides, it is commitment to complete projects, record the company's impressive projects, then record more great success in HT Construction's history:
– Receiving projects: Saigon Imperial Hotel, De Capella, Lavida Plus, Central Premium
– Topping out of De Capella project district 2
– Starting building project 113 on Tran Quoc Toan street
– Topping out ceremony of Saigon Imperial project – district 1
HT Construction's red and yellow makes a strong impression through impressive projects.
Although HT Construction is a new company in the industry, its biggest success is to gather employees, engineers and technicians who are expert in construction, have professional knowledge and always set targets to complete projects with the best quality.
During the period of founding and development, the company has built a strong staff team up to 150 engineers in 6 months. This success is marked by great achievements when projects built by HT Construction have provided an effective living and working environment for society, contributing to improving people's lives.
HT Construction's representatives in some community events such as Ultra Trail AngKor in Cambodia and charitable activities in Dak Lak.
In addition to building projects, HT Construction actively participates in social activities and promotes officers and employees' connection with corporate values. The company also organizes social activities through charity trips and contests in Dak Lak in January 2018 or program Ultra Trail AngKor in Cambodia
Strategic vision in the future, HT Construction sets goals to complete the current projects, find new technology and projects in 2018, reach revenue of 1,000 billion VND in revenue and become a leading construction company in the industry.
HT Construction